Perhaps the most unsurprising news is that I am spending summer in Cuba. I took this photo yesterday from my apartment balcony at dusk.
I have been based in Havana well over a year. Yet, I still feel like I know so little – and that's because I only know my little life in Havana.
But this is about to change.
This summer I plan to travel in Cuba and I have some plans already booked.
I'm so excited to share these because I think it will help others plan travel in Cuba.
Traveling to Cuba doesn't end when warm weather comes to our home country.
While summer in Cuba is a controversial recommendation but I stand by it!
When is the Best Time to Visit Cuba?
It really depends on what kind of experience you are looking for.
If you're just going to an all-inclusive resort in Varadero and you want the best weather then you visit Cuba during dry season.
Conveniently this is at the same time as our cold winter months in North America – December through March.
Christmas in Cuba is great for those who don't want to celebrate,
I love Cuba year round…well May can be a bit too rainy.
But summer in Cuba is my favourite time in Havana because it is low season and before hurricane season.
Mostly because it's pretty hot and humid and people aren't looking for a Caribbean sun holiday if they can go to the beach at home.
But it's also my favourite time of year because it is low season. It is the only time of year Cubans will go to the beach – unless it's May – September they think it's too cold.
The vibe at the beach is completely different. It's a time when you can truly experience a slice of Cuban life.
There are still some tourists but the majority of beach goers are Cuban families and groups of friends. I love a good beach party.
But if you don't like Cuban regaetton music blasting you may want to read my guide to Havana beaches which outlines which Playas del Este beaches are quiet and which are an all out party.
Reasons to travel in summer in Cuba:
No obnoxious spring breakers
Prices are lower
No need to book accommodation ahead
No need to book buses weeks in advance
The best restaurants don't need reservations
Did I mention the beach?

Cuba Temperature in July and August
I'm not going to sugarcoat this…it is HOT in the summer.
Yesterday I was sitting on my balcony with M and his friend and the back of my dress was drenched in sweat.
Everyone sits in the shade and it's especially important for beer to be ice cold (insider tip – only tourists drink Cuba libre cocktails).
But there's something special about this time. Because even if you don't speak a lot of Spanish there's a knowing glance with strangers of boy it's hot.
How Hot is It in Cuba?
In July, Havana averages 33C/91F, it gets hotter as you go to other cities in the South and East.
The eastern side of Cuba (Santa Clara, Holguin, Gibara, Santiago de Cuba) is often 38C/100F plus humidity.
But don't let this deter you. You will adapt quickly to the heat.
MORE ABOUT CUBA
How to Find the Best Cuba Tour
Internet in Cuba
Cuba Money Questions
Best Havana Restaurants
30 Cuban Foods to Try
Weather in Cuba in Summer – Yes it Will Rain
Pretty much every day will be hot. At some point in the afternoon there is a brief shower as it is rainy season and then the evening is delightful.
You don't need to worry about packing a sweater or pants, but you may want to consider a travel umbrella – I love this rainbow travel umbrella.
It's compact and so cute for photos in Cuba's colourful streets. Umbrellas aren't easy to buy in Cuba so bring your own.
 

Where to Stay in Havana
Although I spent most of my first year in the Vedado neighbourhood I've decided to spend summer in Old Havana.
I love Vedado because it's less hectic. It's where middle-class Habaneros live and was modelled after Miami. The streets are wide and lined with art deco buildings.
Bars stay open late and there are lots of great restaurants where Cubans eat at fantastic prices.
I can walk around and no one bothers me. No one asks me to buy things or take a tour. Because hawkers are where most of the tourists are – Old Havana.
Yes some of the mansions in Vedado are deteriorating but many people fail to see all of the new construction and rebuilding that is happening.
Another example that Cuba is not frozen in time, it just operates on its own schedule.
Old Havana is more touristy because it's the historic centre. And until very recently it was also the port for US cruise ships.
Last month I spent a week in Old Havana and really enjoyed it. Enough to decide to come back for the summer.
The streets in Old Havana are more narrow and often more crowded. It's noisier. It's a different energy and I like it.
My only female friend Giselle lives a few blocks away so I can pop in to visit or invite her for an impromptu lunch.
And work wise it makes sense to be here. As restaurants are exponentially more expensive in Old Havana I want to ensure I'm recommending the best places.
Being here gives me time to grab a cafecito aka Cuban coffee, visit sites like El Capitolio and then stop in for lunch at one of the spots I've heard are good for vegetarians in Havana.
My accommodation in Old Havana is much smaller than in Vedado but I really like it. I first booked it on AirBNB (listing here) but now book it directly.
There are two fans in every room along with air conditioning in my bedroom so it's cool even in the summer in Cuba.
Side note: all casa particulares must have air conditioning, which is no small feat as prices begin at $600 for an AC unit in Cuba.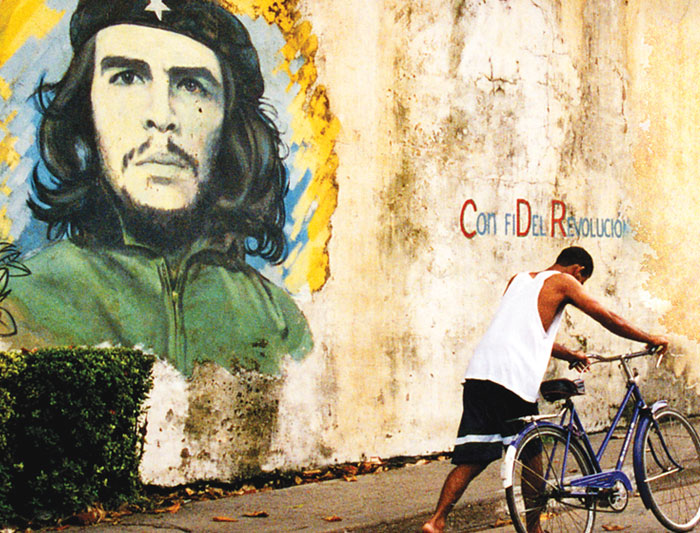 Why I'm Taking a Tour This Summer in Cuba
The biggest news is that I'm taking the Cuba Explorer tour with Intrepid Travel.
I have been traveling Cuba independently for the last year. But I know that is VERY intimidating for first time travelers.
Cuba can feel like the ultimate unknown. When I first traveled here a year and a half ago I didn't know what things would look like.
Most of the Cuba travel tips I read were so outdated, I thought paladares were still restaurants in people's homes – how would I find them??
Turns out that was back in the 90s and the term paladare now just means a private, rather than government owned, restaurant.
This isn't the only information about Cuba that it is outdated – it is NOT a country frozen in time.
So maybe just hopping on a plane and figuring out how to travel in Cuba isn't everyone's ideal holiday plans, especially if you can't speak Spanish in Cuba.
I don't need a tour but I want to be able to recommend one.
Although I have never taken a tour with Intrepid Travel they were the first company I looked into because of their reputation for having great value but also providing an authentic experience.
Here's what I like about Intrepid:
Average group size is 10 people.
They only use local tour guides. Taking a tour that employs Cubans means your travel makes a difference in Cubans' lives.
They are actively trying to gender balance their team of tour guides. They have a goal of doubling the number of female leaders globally by 2020.
Tours in Cuba are in local casa particulares, eating in local restaurants, travelling in local transport etc.
They were the global tour operator to ban elephant rides on tours. Cuba doesn't have elephants but animal tourism really bothers me and I believe it's the responsibility of travel companies to educate travelers who do not know.
Last month I reached out to partner with them because I wanted a tour company that shared my travel philosophies and attracted like minded people.
I'm far too old for Contiki and I don't want tour groups where the draw is just drinking your face off every night.
The great thing about this tour is that it includes cities I know well and others that will be new for me.
My Cuba Tour Includes:
Havana: 4 days (2 at the beginning and 2 at the end)
Santa Clara: 0.5 day
Camaguey: 1.5 days
Santiago de Cuba: 2 days
Trinidad: 2 days
I know Havana well and I've already written this guide to Trinidad Cuba.
So I'll have a great sense if whether Intrepid runs tours with activities I would recommend for independent travelers.
I also considered taking these Cuba tours:
This is specifically for Americans who want to travel to Cuba under the OFAC category Support for the Cuban People.
Yes Americans can still travel to Cuba, but no longer on a cruise ship or educational tour.
Intrepid Travel covers all the bases to ensure travelers are adhering to US regulations. You can read more on United States restrictions to Cuba here.
Cities visited: Havana, Las Terrazas, Vinales, Trinidad, Bay of Pigs/Cienfuegos
Most travelers are surprised at how expensive it is to travel within Cuba. The general rule is $100 per person per day.
Of course you can spend more or less money depending on what you choose to do but I consider Cuba to be approximately twice the cost of Mexico.
It should be noted that Couchsurfing is illegal in Cuba because tourists can only stay in Cuban government approved casa particulares (Cuba's version of bed and breadfasts or private rentals) or hotels.
An exception is made for foreign family members who have the appropriate visa.
Cubans who are caught face severely fines by the government.
So I'm particularly interested in this tour as it shows travelers how to navigate the country on a small budget.
Cities visited: Havana, Vinales, Trinidad, Bay of Pigs/Playa Larga
Technically I cannot take this group tour as you must be traveling with a minor.
After all this is a tour for families, who face unique challenges… and honestly I don't want to travel with kids.
But I did want to include this tour as Cuba is still a viable family holiday spot outside the resorts.
Cubans love children and kids open up opportunities to interact with locals.
Cities visited: Havana, Vinales, Soroa, Playa Giron, Cienfuegos, Trinidad, Havana
Are there any other types of Cuba tours you'd like to know about? Leave me a note in the comments below and I'll be sure to answer your questions.
Pin it For Later: Summer in Cuba